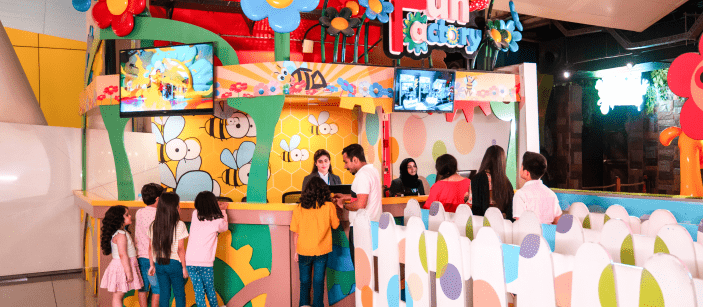 Fun Factory Park: The Hub of Indoor Fun Places in Lahore
Everyone loves Fun Factory for countless reasons. In fact, it has been rated as one of the most popular fun places in Lahore for children as well as adults. Every zone has tons of rides and other attractions to offer. But when it comes to making the most of your trip, you must plan ahead and know what you're getting into.
So,
If you're going to Fun Factory for the first time or want to brush up on your knowledge about these great attractions, this article would be perfect for you! We will discuss important information about the best highlights, so before heading out on your next family adventure at one of the best fun places in Lahore, here are top features to consider in order to enjoy maximum.
What makes Fun Factory the Best Amongst the other Fun Places in Lahore?
Almost everyone knows about all the spectacular attractions and fun activities at Fun Factory Park. The indoor amusement park remains jam-packed all year with local and international visitors making it one of the most popular indoor fun places in Lahore and Pakistan. In short, Fun Factory has it all figured out regarding the characteristics of a successful theme park which are listed below.
The Only Indoor Theme park Offering Fun for Everyone
The idea of theme parks is mostly associated only with kids. This is partially accurate. However, it's incorrect to think that the park's entire layout is intended for children only; hence why Fun Factory Park has taken the initiative to make it fun to visit for visitors of all ages. There are various "milder" attractions for young children, along with thrilling rides for older children and adults. Depending on age, different attractions are designated for particular populations, but something that is worth considering is that the place offers fun opportunities for everyone.
Temperature Controlled & Ideal Location
The location and temperature control for an indoor park is crucial, and our fun park is located in the heart of Lahore at the most iconic location of Johar Town – Emporium Mall. The facility is easily reachable by plenty of people, not too off the usual road, and not too distant from the Lahore international airport. Apart from that, the location is accessible by major roads and is connected to the most important areas of Lahore. Temperature is another important factor in the physical location; thus, it should come as no surprise that the temperature control system of Fun Factory is amazing, making it one of the ideal fun places in Lahore to visit any time around the year.
Excellent Attractive Features
The calibre of the attractions determines the life or death of theme parks. As Lahore's most successful theme park, we offer the most iconic attractions that visitors desire to ride or view repeatedly. Great attractions are welcoming and not unduly limiting. Visitors are placed in interesting scenarios and zones, including the mix and match of virtual reality, arcade gaming, soft play areas, augmented wall, ice rinks and much more. The major zones and attractions at Fun Factory are as follows;
The Circus
Dark City
The Ice Rink
The Lost Jungle
Fantasy Land
Carnival Zone
Emporium Express
We Offer the Most Happening Birthday Party Area
The difference between an average theme park and one of the best enjoyment places in Lahore is that Amusement parks are just collections of rides and games, while the Fun Factory Park is meant to put visitors into a fantastic place where they can have the most amazing gatherings and collect best memories together with their family and friends. When you celebrate your birthdays at our birthday party area, your reality is temporarily suspended, and you can see the magic and fantasies coming to life.
What's more?
There is a never-ending list of reasons and perks exclusively offered on at the Fun Factory Park. keep reading.
Well-Trained, Empowered and Experienced Assistant Staff
An extraordinary quality only found at the Fun Factory Park is excellent customer service that accommodates the needs of all our visitors. Doing that ultimately requires a great team. We are fortunate to have the most professional employees and representatives to help visitors throughout their time at the Fun Factory Park and assist them at every level for a flawless experience and beautiful memories.
Thats a Wrap!
Visit one of the most in-demand fun places in Lahore only at the Fun Factory Park Emporium Mall and enjoy endless fun, rides, and your favourite games at the lowest price ever! See you there.